We are pleased to announce that Champions of Hope, promoting cancer awareness, will be held on October 15 in historic downtown Dothan. Champions will feature 5K, 10K and Spirit Walk routes that begin and end at The Plant. Our historic venue, The Plant, is located on North Saint Andrews Street in the former Coca-Cola Bottling Company building.
The event line up this year includes new opportunities to come together and honor those we love.
Packet pick up will be held on Friday, October 14 at The Plant, during this time team tents can be set up and teams can enjoy music, food and fellowship.
Immediately following packet pick up, after dark, a Celebration of Light will be hosted to support, remember, and encourage our cancer survivors, or anyone touched by cancer through the dedication of a luminaria, which serves as a beacon of hope throughout the darkest of times.
Due to your generosity, we have been able to fund:
Cancer Navigation Services
3D Mammography
PET/CT Scanner
Transportation Services
Customized information reference binders for newly diagnosed patients
Post-mastectomy comfort kits
Harrison's Helping Hands
Join us for a day of community fun as we continue to raise funds for cancer services in the Wiregrass!
Champions of Hope Honoree
Sam Crawford
The Hunter Family
Harrison's Story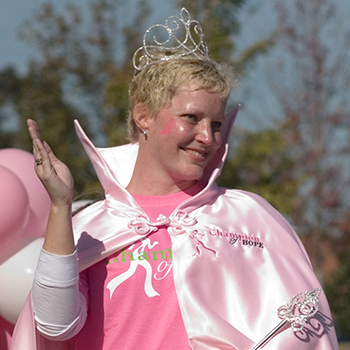 Past Event Chairs & Honorees
2008 Chair – Sandi Thurman McCool
2009 Chair – Kelli Cundith Beaty
2010 Chair – Kelli Hall
2011 Chair – Franzi Bondy
2013 Chair – Melinda McClendon
2014 Chair – Sandy Brooks
2015 Chair – Patty Harris
2016 Chair – Valerie Harris
2017 Chair – Janet Jones
2018 Honorees – Pat & Roddy Cook
2019-2020 Honorees – Christi Peterson & Al Stefin
2021 Honoree – Sam Crawford
2022 Honorees – Emily Roberts & Robert Horne
The History of Champions of Hope
In Spring 2008, while visiting with close friends, Sandi McCool – a nurse, wife, and friend fighting breast cancer – shared her dream of one day participating in a local event that would honor and encourage breast cancer survivors. That dream became a reality on October 25, 2008, when more than 500 participants gathered on the campus of the Southeast Alabama Medical Center (Southeast Health Medical Center) to embrace the fighting spirit of those who have battled or are battling breast cancer.
On November 23, 2011, Sandi lost her seven-year battle with breast cancer. Sandi will always remain the inspiration and driving force behind Champions of Hope. In 2012, as a tribute to her legacy, the event was named The Sandi McCool Champions of Hope. Since its inaugural year (2008) Sandi's vision continues to grow and to date Champions of Hope has raised more than one million dollars in support of breast cancer awareness, early detection and intervention services.
In 2018, as a further tribute to Sandi's legacy, the Southeast Health Foundation Board of Trustees expanded the scope of cancer services that the event funds would support. On October 20, 2018, the Wiregrass community rallied to support the first Champions of Hope to celebrate all cancer survivors and previvors affected in the region.
Champions of Hope 2020 continued to expand on Sandi's vision as it evolves its commitment to all in our community impacted by a cancer diagnosis. The event returned to its original name, Champions of Hope and also recognized our first Sandi Thurman McCool Champion of Spirit award recipient. Each year this award will recognize our largest individual fundraiser, someone that is committed to Sandi's passion that cancer care needs a community and is easier at home.
Thank you to our 2022 event sponsors
Finish Line Sponsor – Adams Beverage
Survivor Tent Sponsor – Women's Medical Center
Flag Garden Sponsor – The Family of Ralph Smith
Registration Sponsor – Chick-fil-A East Dothan
Hope Sponsors
PNC Bank
Mile Marker Sponsor
Personnel Resources
Northstar Engineering
Larry Bloomberg & Associates, LLC