The Sandi McCool Champions of Hope is a 5-K, 10-K and half marathon competitive race, 1-mile Spirit Walk and Kids Zone community cancer awareness event presented annually by the Southeast Health Foundation. Each year sponsors, runners, walkers, and survivors, along with their families and friends gather to raise money and awareness about the importance of early detection and intervention.
Raising more than one million dollars since its inaugural event in 2008, proceeds from Champions of Hope help expand cancer services and programs offered by Southeast Health. Some of the services and programs funded include Cancer Navigation Services, 3D mammography, customized information reference binders for newly diagnosed patients, and post-mastectomy comfort kits.
Each year a cancer survivor is selected as the honorary chair of the Sandi McCool Champions of Hope. The 2020 Sandi McCool Champions of Hope Honorees are Christi Peterson & Al Stefin. Previous chairwomen include Sandi McCool (inaugural chair and event inspiration), Kelli Cundith, Kelli Hall and Franzie Bondy.
Our 2019 Champions of Hope Honorees: Christi Peterson & Al Stefin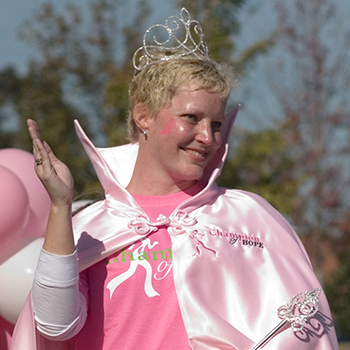 It was Sandi Thurman McCool's dream to create an event that would inspire and celebrate those who have been affected by breast cancer. Sandi wanted people to know they could receive first class medical care right here at home and Sandi knew what it meant to be at home during treatment. "I could rest better," she said on more than one occasion. Being surrounded by her family and friends was so important and she hoped Champions would make staying at home possible for all those who are facing this diagnosis.
On November 23, 2011, Sandi lost her seven-year battle with breast cancer. Sandi will always remain the inspiration and driving force behind Champions of Hope. And in 2012, as a tribute to her legacy, the event was change to The Sandi McCool Champions of Hope. Since its inaugural year (2008) Sandi's vision continues to grow and to date Champions of Hope has raised more than one million dollars in support of breast cancer awareness, early detection and intervention services.
Frequently Asked Questions