COVID-19 Emergency Response Fund
The role of philanthropy is especially critical during challenging times such as these we are facing now with the coronavirus (COVID-19). Southeast Health, as the regions healthcare leader, is prepared to handle the health needs as they arise.
In response to requests from many of you to help, the Southeast Health Foundation has created a COVID-19 Emergency Response Fund. Gifts designated to this fund will help cover additional healthcare needs of the community during this COVID-19 pandemic.
If you wish to help, you can donate online now. In the "Designation" section, choose "COVID-19 Emergency Response" from the drop-down menu. Or if you prefer, you can mail a check to the Southeast Health Foundation, 1922 Fairview Ave., Dothan, AL 36301, and note COVID-19 on the memo line.
Thank you in advance for your generous support to help our dedicated healthcare workers who are on the frontline caring for the needs of the community during challenging times.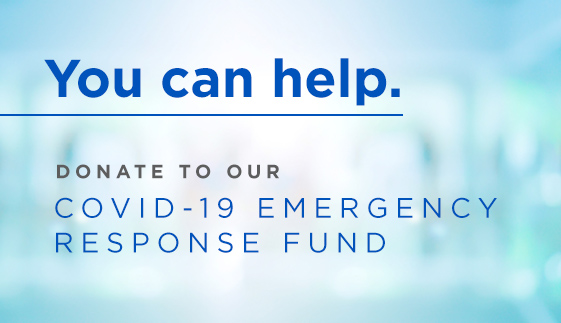 Our entire community continues to stand behind our frontline workers in the fight against coronavirus.
Southeast Health has an adequate supply of personal protective equipment (PPE) currently on hand to protect its employees and patients from COVID-19. However, the global supply for this equipment continues to be uncertain and we are actively taking steps to secure more supplies.
Many individuals, groups and businesses from the community have generously offered to help assist in our preparedness efforts by sewing cloth masks. While the Centers for Disease Control and Prevention does not suggest cloth material as a first-line defense against the coronavirus causing COVID-19, cloth masks work well for visitors and patients.
If you would like to donate cloth masks or materials please contact the Southeast Health Foundation at 334-673-4150.
Hand-sewn masks can be dropped off between 8 am- 4 pm, Monday – Friday at the Southeast Health Foundation, 1922 Fairview Avenue, Dothan, AL 36301.
Donated masks are thoroughly laundered and sanitized before being distributed.
Your efforts will make a positive impact on our community during this critical time.
Thank you to our community members
Alabama College of Osteopathic Medicine – Students
Adam Beverage
April Luker and the generous donors to her
"Thank You Meal" fundraising Campaign
Barberitos
Ben Buttars
Brittany Byrd
Buffalo Rock
Celene Hern
Chick-fil-A (East Dothan)
Church at the Crossing
Coca Cola
Cornerstone Church
CVS Pharmacy
Dan Robison, Wiregrass Technologies
Dee Dee Lewis
Dothan Education Foundation
Dothan & Enterprise Martial Arts Academy
Dothan First Assembly
Dothan Technology Center
Edward Jones
Erin Scott
Greg Summerland, GL Robotics
Highlands Antiques & Interiors
HOTS Deli
Houston County Medical Society
Jimmy John's
JOANN Fabrics
Jones Plumbing
Keller Williams of Southeast Alabama
Kelli Cundith Beaty
Coldwell Banker Alfred Saliba Realty
Kelli McCart
LBA Properties
Logos Baptist Church
Lowe's Home Improvement
Dr. Patel & Family
Ridgecrest Baptist Church
Sami & Minal Shah
Shannon Jimmerson
Smoothie King
Southeastern Apparel
Susie White
The Home Depot
TriState Graphics
Triumphant Cross Lutheran Church
Tropical Smoothie
Which Wich and their generous customers
Wiregrass Church
Wiregrass Foundation
WOOF Radio – John Tesh
YellaWood