SAMC Foundation funds ACOM's annual Science Camp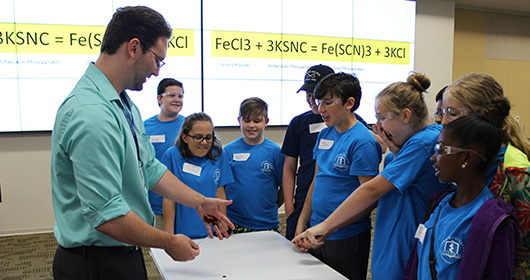 The Alabama College of Osteopathic Medicine (ACOM) hosted its annual Science Camp on July 18. More than 125 middle and high school students participated in the camp this year. ACOM Science Camp is generously funded by the SAMC Foundation.
ACOM Science Camp is one part of the college's Beyond the Classroom initiative. Beyond the Classroom has become an integral part of ACOM's outreach to the community to demonstrate the importance of science in healthcare and developing new technology. The series also includes the annual Wiregrass District Science Fair and other workshops. ACOM Science Camp activities are designed to engage youth in the exploration of a variety of scientific principles, with the goal of increasing interest in future science and health education and careers.
The full schedule of activities included:
Old Hollywood Magic (special effects before the green screen)
Under Pressure (discussing atmospheric pressure)
Past the Melting Point (how molecular properties dictate function)
Fire Works! (learning about why things burn)
Chemically Relevant (chemical reactions in an exploding toothpaste experiment)
Science from the Artist's Palette (exploring surface tension through painting with bubbles)
Through the generous support of the SAMC Foundation, ACOM is able to facilitate these programs free-of-charge to participants.