Organizations partner to provide Babyleo beds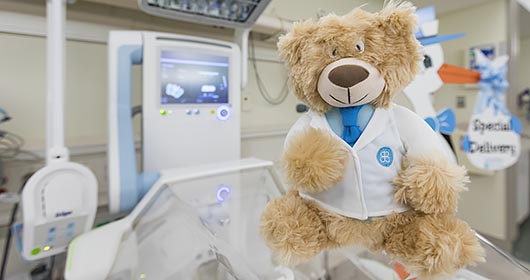 Thanks to contributions from Brave Beginning, Wiregrass Electric Cooperative and Southeast Alabama Medical Center (SAMC) Foundation's Philanthropic Women's Society some of our tiniest patients and their parents can now rest easy.
These three organizations have partnered with the SAMC Foundation to provide Babyleo beds for premature babies in our Neonatal Intensive Care Unit (NICU). More than $125,000 has been donated to purchase the Babyleo beds. SAMC, which opened the region's first NICU in October 2015, is the first hospital in Alabama and the second one in the country to offer these high tech beds.
"These special beds reduce the number of times a premature baby has to be moved or stimulated, which can compromise the developmental health of the baby," said Tammy Smith, executive director of Women and Infants Services.
The Babyleo beds help to ensure newborns are healthy and in the arms of their parents as quickly as possible. The bed features three heat sources to help keep the baby's temperature at an optimal level.
"I want to thank all three of our partners who have generously invested in the quality of healthcare we provide in our community," said Valerie Barnes, executive director of the SAMC Foundation. "This support will impact our tiniest patients in extraordinary ways."