THANK YOU to Hobo Pantry and their loyal customers for raising $13,066 to support cancer services & resources at Southeast Health!
Hobo Pantry partners with the Southeast Health Foundation for six weeks each year with Hobos for Hope, a campaign to raise funds in support of cancer services and resources at Southeast Health. During the campaign Hobos for Hope pinups will be sold at all 26 Hobo Pantry locations.
The pinups can be purchased for $1 and $5 with 100 percent of the proceeds benefitting local cancer patients. Those who purchase a pinup can write their name or the name of a cancer survivor on it to be proudly displayed in the store. It also shows other customers how easy it is to make a difference in the lives of those who are battling cancer.
The money raised can be used for services and resources that include assisting a patient with transportation to funding a new oncology infusion treatment suite. Participating in this program allows the Hobo Pantry store employees and its customers an opportunity to join in the fight against cancer here at home.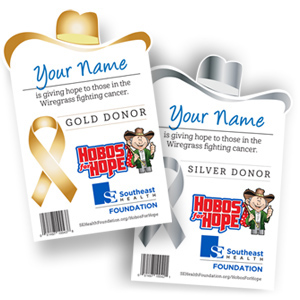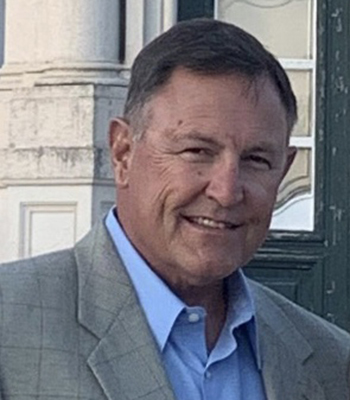 Tim Shirley's Story
Most people would recognize Home Oil Company by its Hobo Pantry logo; the cheerful, scruffy fella with a knapsack on his back. Home Oil Company is a name that stuck when the Shirley family purchased the first location in Ashford more than 50 years ago. At that time, Tom Shirley wanted to keep the name because it was in line with his vision for the company. Home has continued to be important to the Shirley family. Tom's son, Tim, now serves as president of the company. When Tim was diagnosed with throat cancer more than 5 years ago, he wanted to receive treatment close to home.
"I could have gone to other cities for my cancer treatment," he says. "But I figured the Good Lord would watch over me just as well here as anywhere else. I had confidence in the medical care at Southeast Health and that's where I wanted to be."
Tim has been cancer free for more than five years and his cancer journey has motivated him to help other cancer patients at Southeast Health through his 26 Hobo Pantry stores.
The first Hobos for Hope fundraising campaign allows customers of Hobo Pantry stores to help raise money in support of those battling cancer.
Ashford, AL
1986 Hwy 84 East
Dothan, AL
616 North Oates Street
4380 Columbia Hwy
2808 East Main Street
735 Ross Clark Circle
146 Westgate Pkwy
2409 Reeves Street
2977 Montgomery Hwy
3090 Denton Road
2520 South Oates Street
3731 South Park Ave.
4468 West Main Street
Cottonwood, AL
13286 Cottonwood Hwy
Cowarts, AL
6322 Hwy 84 East
Samson, AL
2 East Main Street
Enterprise, AL
3660 Ft. Rucker Blvd.
Ariton, AL
22 Pea River Road
Headland, AL
16566 Hwy 431 North
Ozark, AL
1022 South US. Hwy 231
Eufaula, AL
3004 South Eufaula Ave.
3281 South Eufaula Ave.
Columbia, AL
204 East Church Street
Brundidge, AL
438 S.A. Graham Blvd.
Opp, AL
707 Florala Hwy
Gordon, AL
20718 US. Hwy 84
Marianna, FL
2000 Hwy 71