New chairs provide bonding for newborn and parents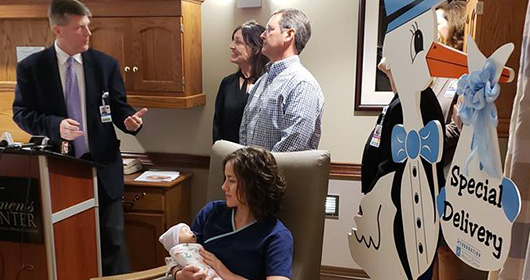 Sometimes a parent's touch can make all the difference.
Throughout the region, babies are born every day who are premature or critically ill or requiring specialized care in a neonatal critical care unit (NICU). In most instances, these newborns can be cared for at the level II NICU at Southeast Alabama Medical Center (SAMC). Providing this level of care requires physicians, nurses and other team members to have the right training and the highly specialized equipment allowing them to care for the unique needs of each newborn.
Recently, SAMC Foundation donors made a positive impact on the lives of NICU newborns and parents by helping to enhance a nurturing environment for newborns. Because of their generosity, four Kangaroo Chairs have been introduced in SAMC's NICU.
These chairs provide comfort and developmental support to newborns while helping decrease the risk of postpartum depression in moms. Designed to mimic kangaroo care, the chair allows parent and baby to snuggle while providing skin-to-skin contact to begin the bonding process. The Kangaroo Chair slowly reclines so the parents can comfortably rest with the newborn on their chest. The parent then wraps a cloth or shirt around the baby resembling a kangaroo's pouch. This allows the baby's vital signs to remain consistent, while helping with breastfeeding.
Three of the chairs were donated in loving memory of Greg and Elsa Hoffman's infant son Charlie. The chairs, which have become affectionately known as Charlie's chairs, were made possible through the generosity of 35 friends and family members. Elsa Hoffman expressed her appreciation for the generosity of her family's friends. "Charlie's Chairs is a wonderful way family and friends honored our son," said Elsa. "The chairs bring infants and parents comfort through contact. This idea, rooted in love and support of our family, will always be appreciated and cherished."
Rebecca Marsella is one of those friends who spearheaded the effort. "This seemed like the perfect opportunity to be able to help families have the opportunity to hold their precious newborns and at the same time, honor our dear friends and their son."
The local Eclectus Club also donated funds for Charlie's chairs. A gift for a fourth Kangaroo Chair was generously provided by an anonymous donor in memory of another baby.
The Kangaroo Chairs, with the recent addition of the three BabyLeo beds, help provide our tiniest patients with the extra care they need.
"Because human touch is a crucial part of the healing process and key for family bonding, we know these chairs will have a tremendous impact on our NICU newborns and parents," said Sheri Smith, director of NICU. "We are very fortunate that SAMC Foundation donors have taken a special interest in ensuring that SAMC has the very best equipment and technology available. Their contributions have helped us fund special projects that are truly extraordinary for our community."
For more information on how to make a donation to the NICU or other areas of the hospital through the SAMC Foundation, please go to samcfoundation.org or call 334-673-4159.