Southeast Health Foundation awards inaugural Michael Miller Memorial Scholarships to Teen Volunteers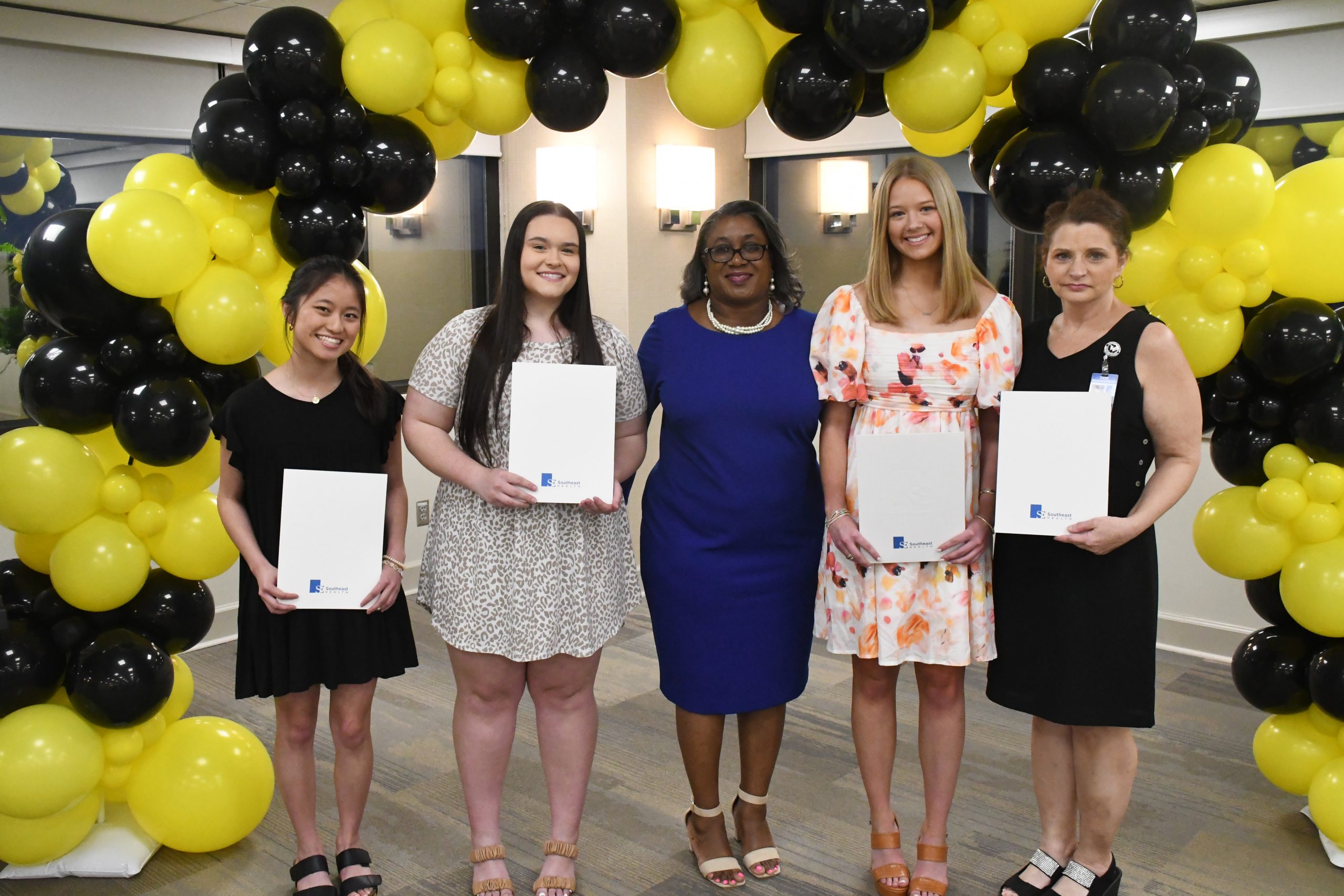 DOTHAN, Ala. – This week the Southeast Health Foundation named the first four recipients of the Michael Miller Memorial Scholarship, valued at $2,000 per student. The scholarship will be awarded annually to deserving TeenAge Volunteers (TAV) at Southeast Health.
The 2023 Michael Miller Memorial Scholarship recipients are:
Bella Capaldo, Houston Academy
Ragan Jimmerson, Northside Methodist Academy (2022 graduate,  enrolled at Auburn University)
Alyssa Roberts, Ashford High School
Sarah Wasdin, Southwest Georgia Academy
In 2022, the Southeast Health family lost a beloved team member, Michael Miller. He was a few months shy of his 30-year work anniversary, and his impact was indescribable. To honor Michael and his legacy, the Southeast Health Foundation developed the Michael Miller Memorial Scholarship benefitting Southeast Health's Teenage Volunteers (TAV).
Applicants for the scholarship must have served as a TAV for more than 30 hours in the prior year to be eligible. The selection committee, which is comprised of representatives from the Miller family, Southeast Health employees, and Foundation board members review blinded applications based on a number of factors such as leadership, academic performance and community service.
Amy Bunting, director of the Southeast Health Foundation, commented, "Michael Miller's selfless work touched so many at Southeast Health and in the community. We were proud to honor his legacy in this way. Volunteers, like the ones recognized here, have made tremendous impact at Southeast Health and we hope the experience they gain helps cultivate an interest in the healthcare field and that one day they may return to serve our patients and make an impact in the community, like Mike."
About the scholarship:
In honor of Michael, an initial $30,000 was awarded to this scholarship fund from the Southeast Health Employee Campaign. The fund has now surpassed $50,000.
Michael was the epitome of a team player, and his presence could light up a room and make anyone's day brighter. He was well known at the hospital and within the community for his kind, generous spirit and selfless actions.
He would often ask someone if they needed anything, and could be found doing countless tasks across the hospital — whether hanging a TV, fixing a computer, or getting ice for the department picnic. Michael was a mentor to many, and a friend to all.
Michael's selfless work extended beyond the walls of Southeast Health. He was a volunteer coach with Northview and Dothan High School for more than 23 years. He mentored countless young men and women, encouraged them to pursue their dreams, and coached them as they worked to achieve their stated goals. Our entire community will feel the void he leaves behind.
Michael was also the pillar of Southeast Health's Hospital Week and had organized the employee volleyball tournament since its inception.
Because Michael Miller touched so many lives across the Wiregrass, we invite the community to contribute in his honor and give back, just as Michael did throughout his life. If you would like to donate, please visit https://www.sehealthfoundation.org/donate-now/, and be sure to designate the "Michael Miller Memorial Scholarship Fund".
Photo caption:
The 2023 Michael Miller Memorial Scholarship recipients were announced at the annual Southeast Health TeenAge Volunteer banquet held on May 9. Pictured left to right: Bella Capaldo, Alssya Roberts, Tressie Miller, Ragan Jimmerson, Bebe Wasdin (on behalf of her daughter, Sarah Wasdin)